Why should you include collagen
in your skincare routine?
Discover Prouvé collagen care
Already between the ages of 25 and 30, collagen levels in the skin begin to decline - more and more collagen cells die and new ones appear more slowly. After the age of 60, its production virtually stops. In addition, the valuable collagen fibres are also damaged by sunlight, environmental pollution, chronic stress, hormonal disorders, smoking and excess sugar in the diet. That is why we have created a series of collagen cosmetics, Collagen Pro, which stimulate its natural regeneration and help to significantly slow down the ageing process. The anti -ageing effect can be enhanced by combining them with our Good Life Labs Liquid fish collagen, which additionally cares for the condition of hair and nails.
DISCOVER OUR PRODUCTS WITH COLLAGEN
Fight the first signs of ageing
If you notice that the skin of your face, neck and cleavage begins to lose its youthful glow, this is the time to include our Anti-age active serum from Collagen Pro series to your daily care.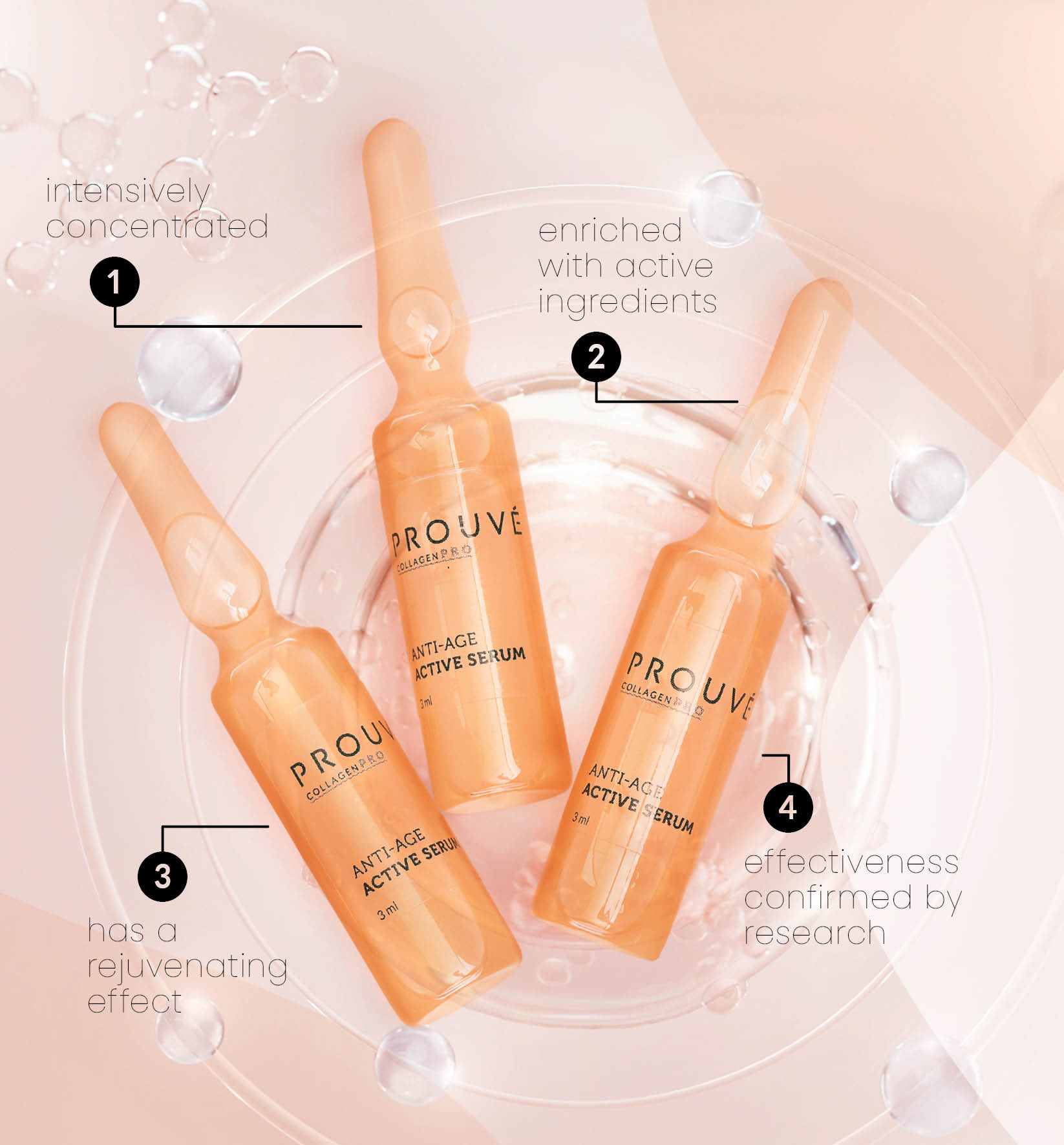 Why you will love it:
for its effectiveness. It is intensively concentrated anti-wrinkless treatment, unreplaceable in fighting the first signs of aging. The serum effectively shallows the wrinkles and reduces the visibility of crow's feet and facial lines. Smoothes and tightens the skin, restores its firmness and elasticity and makes it regain its youthful apperance.
Our secret is:
formula based on plant collagen obtained from acacia that makes the skin visibly regain its youthful glow. Biologically active tripeptide accelerates the cell renewal and reduces the depth of wrinkles . Vitamins A, C and E enclosed in liposomes, combined with beta-carotene moisturize and nourish the skin. We have enriched the serum with avocado oil that has a regenerating effect and protects against the harmful effect of external factors.
BUY NOW
Extract of acacia, called "plant collagen" is responsible for strengthening the production of collagen, stimulates the regeneration processes of skin and makes it firmer.
Biologically active tripeptide accelerates the skin renewal and reduces the depth of wrinkles.
Liposomal capsule with vitamins A, C and E in combination with beta-carotene, facilities the increased penetration of active substances into the skin and effective delivery of vitamins.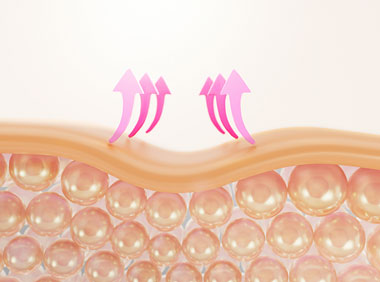 Research* prooved that after four weeks of using our serum, the elasticity of the skin increased averagely by 15%, and fine and medium wrinkles got reduced and less visible. 100% of the respondents confirmed that the cosmetic makes the skin regain its glow and youthful appearance.
*Based on independent application and utility research as well as instrument research conducted on a group of 25 people.
Take care of your beauty from the inside out
Complete your collagen levels using easily absorbable Liquid fish collagen dietary supplement with added vitamins, minerals and plant extracts.
Why you will love it:
for its rich composition and comprehensive action. Collagen improves the hydration, elasticity and density of the skin. Vitamin C supports its production to ensure the right functioning of skin. Biotin, iodine, niacin, vitamin A and riboflavin help to mantain a healthy skin. Biotine also helps to mantain a healthy hair. Zinc ensure a proper condition of hair and nails. Vitamin C, riboflavin and zinc participate in protecting the cells against the oxidative stress.
What else you should know about it:
our fish collagen is the most effective composition of collagen peptides possible, optimized to support a beautiful skin. It is perfectly absorbed by the human body.
BUY NOW